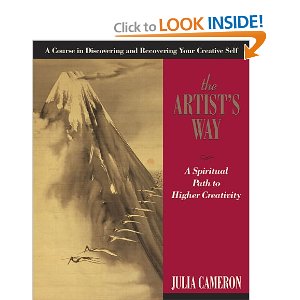 The Artist's Way
Julia Cameron

The Artist's Way
The Artist's Way is the seminal book on the subject of creativity. An international bestseller, millions of readers have found it to be an invaluable guide to living the artist's life. Still as vital today-or perhaps even more so-than it was when it was first published one decade ago, it is a powerfully provocative and inspiring work. In a new introduction to the book, Julia Cameron reflects upon the impact of The Artist's Way and describes the work she has done during the last decade and the new insights into the creative process that she has gained. Updated and expanded, this anniversary edition reframes The Artist's Way for a new century.
Vein of Gold
Julia Cameron

The Vein of Gold
Julia Cameron draws from her remarkable teaching experience to help readers reach out into ever-broadening creative horizons. As in The Artist's Way, she combines eloquent essays with playful and imaginative experiential exercises to make The Vein of Gold an extraordinary book of learning-through-doing. Inspiring essays on the creative process and more than one hundred engaging and energizing tasks involve the reader in "inner play," leading to authentic growth, renewal, and healing.
Vein of Gold
Julia Cameron

The Writing Diet
Experts agree: often we choose to eat not because we are hungry, but because we are bored, sad, frustrated, or else we are happy and in the mood to celebrate with treats. In other words, emotions can drive us to overeat. What if, instead of turning to food, we could identify those underlying feelings and express them in a healthy, positive way? What if, in doing so, we could also increase our creativity, get in touch with our authentic selves, and discover our true artistic abilities? In her new book The Writing Diet: Write Yourself Right-Size, artist and bestselling creativity mentor Julia Cameron promises just that.
The Right To Write
Julia Cameron

The Right To Write
Writing, for Julia Cameron, is neither solely vocation nor avocation: it is a way of life. It comes first thing in the morning, while the horses are waiting to be fed; it happens at the kitchen counter, while the onions are sautéing; it takes place on "dates" at café tables shared with likeminded friends; it unfurls in the mind as the '65 pickup "bucks over the rutted dirt roads like a stiff-legged bronco." The more than 40 brief personal essays that make up The Right to Write are an unyielding affirmation of the writing life and a denigration of all that gets in the way: busy schedules, procrastination, insecurity, lack of writing space, a day job--you get the point. Cameron's commonsense advice is liberating to anyone who has felt hampered by making a big deal out of writing (this "tends to make writing difficult. Keeping writing casual tends to keep it possible"), by not having the time to write ("Get aggressive. Steal time"), or the like. If you find a spirit that compares writing to revelation, prayer, and Zen pursuits, that might just attribute misguided communication to Mercury retrograde simpatico, then you will find much to embrace here. And you will never, never again dream of waiting for that commitment-free sabbatical in the south of France to get your writing project under way. --Jane Steinberg
24 Hours with 24 Lawyers
Jasper Kim

24 Hours with 24 Lawyers: Profiles of Traditional and Non-Traditional Careers
Are you thinking of attending law school or switching legal careers? About to graduate and wondering which path to take? Are you curious about what lawyers in different fields do in a typical day? Then spend twenty-four hours with twenty-four lawyers through this innovative book, 24 Hours with 24 Lawyers. Whether you want to be a full-time corporate lawyer, work as a legal consultant while pursuing your music career, or anything in between, this book gives you a unique "all-access pass" into the real-world, real-time personal and professional lives of twenty-four law school graduates. These working professionals each present you with a "profile" chronicling a typical twenty-four-hour day in their traditional and non-traditional careers. You will read actual twenty-four-hour accounts from the perspective of a venture capitalist, Wall Street lawyer, lobbyist, entertainment lawyer, IP attorney, sports broadcaster, JAG officer, prosecutor, criminal defense lawyer, mediator, and politician, just to name a few. From the time they wake up in the morning to the time they go to bed, each professional illustrates what their position entails on a day-to-day basis and will give you invaluable, informative, and honest insight above and beyond what many brochures, guest lectures, career workshops, or law firm website descriptions can provide. After reading 24 Hours with 24 Lawyers, you'll be better prepared to determine which career profile may suit you best before accepting a new job or investing in a legal education.

Tribal Leadership
Dave Logan, John King, Halee Fisher-Wright
BUY NOW
Tribal Leadership
Every company, indeed, every organization, is a tribe, or if it's large enough, a network of tribes—groups of twenty to 150 people in which everyone knows everyone else, or at least knows of everyone else. Tribes are more powerful than teams, companies, or even CEOs, and yet their key leverage points have not been mapped—until now. In Tribal Leadership, Dave Logan, John King, and Halee Fischer-Wright show leaders how to assess their organization's tribal culture on a scale from one to five and then implement specific tools to elevate the stage to the next. The result is unprecedented success.
In a rigorous ten-year study of approximately 24,000 people in more than two dozen corporations, Logan, King, and Fischer-Wright refine and define a common theme: the success of a company depends on its tribes, the strength of its tribes is determined by the tribal culture, and a thriving corporate culture can be established by an effective tribal leader. Tribal Leadership will show leaders how to employ their companies' tribes to maximize productivity and profit: the authors' research, backed up with interviews ranging from Brian France (CEO of NASCAR) to "Dilbert" creator Scott Adams, shows that more than three quarters of the organizations they've studied have tribal cultures that are merely adequate, no better than the third of five tribal stages.