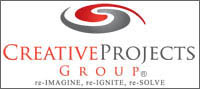 Steve Solot, Founder and President of the Latin American Training Center (http://www.latamtrainingcenter.com/?lang=en )and President of the Rio de Janeiro Film Commission

(http://www.riofilmcommission.rj.gov.br/), is leading a small delegation of Brazilians, from its capitol city, Brasilia, in a mini-immersion industry orientation in Los Angeles from April 10th-14th.
William Nix and Creative Projects Group® Advisory Board Member, Nancy Cushing-Jones, will each make presentations to this delegation relating to the production of creative content under new transmedia production and business models. Ms. Cushing-Jones will highlight the launch of the transmedia venture, BroadLit, its acquisition of libraries as well as creation of new works as assets, and its entrepreneurial path to success (see: www.trulovestories.com and www.herbusylife.com). Mr. Nix will focus on new media platforms, including the March 2013 Nielsen Cross-Platform Report and its ratings adjustments for Web-Linked TV's, the seminal role of YouTube as a market leader in the field, and discuss The New Rules of the Hyper-Social, Data-Driven, Actor-Friendly, Super-Seductive Platinum Age of Television as outlined in an article of that title in Wired Magazine (see: http://www.wired.com/underwire/2013/03/nielsen-family-is-dead/).
For further details, please see: LATC__ Successful Coordination of Brazilian Creative Collectivities Delegation in Los Angeles (April 2013)