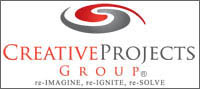 Creative Projects Group®, LLC (CPG) and Avalon Group Ltd. (Avalon) announced the formation of a strategic alliance with one another.

As part of this new alliance, William Nix, Chairman of CPG, has become a Senior Advisor of Media, Entertainment & Technology Investment Banking at Avalon.
About Avalon Group, Ltd.
Avalon Group Ltd. is a twenty year old investment bank and strategic advisory that provides clients the quality and technical expertise of a major investment bank while maintaining the confidential personal service and efficiency of a boutique firm. Services include arranging private investments, registered direct offerings, and PIPEs; as well as providing fairness opinions, mergers and acquisitions, restructuring, and strategic advisory services. Since 1992, Avalon has worked with high caliber, committed corporate leaders to expand their businesses, re-capitalize or re-organize firms, sell or purchase divisions, and arrange liquidity events. Our clients have ranged from mid-market, private companies and Fortune 500 companies to multi-national entities and early stage ventures.
Lynda Davey - Chief Executive Officer of Avalon Group, Ltd.
Lynda Davey's finance career spans nearly 30 years of advising, financing and investing in consumer product and retail companies. Ms. Davey brings broad expertise to her clients, having assisted them to strategically position their companies for success by focusing on balanced capitalization, developing and implementing strategic growth plans and optimally structuring transactions.
Ms. Davey is currently Chairman and Chief Executive Officer of Avalon Group Ltd, which she co-founded in 1992 and of Avalon Securities Ltd, one of the few woman-owned FINRA and SEC registered broker dealers. As a boutique firm, Avalon provides bulge bracket assistance to mid-market clients. The firm cultivates long term relationships with high caliber business owners and senior executives by assisting them with both short-term and long-term needs including financing for business expansions, balance sheet recapitalizations, acquisitions and liquidity events. An example of Avalon's partnership approach is its six-year involvement with Tempur-pedic during which Avalon assisted the owners to merge the Danish manufacturer and U.S. distributor to create a vertically integrated company, arranged an initial private placement and international debt syndication, valued management stock options, and ultimately advised on the business's $400 million sale.
Prior to founding Avalon, Ms. Davey worked at Salomon Brothers on public offerings, divestitures, acquisitions and private placements for clients in a variety of industries. She was also President of Tribeca Corp, a merchant bank with large equity investments in public consumer companies and private buyouts. Before commencing her finance career Ms. Davey practiced as a registered architect.
In October 2012, Ms. Davey was elected as Chairman of the Board of Wet Seal, Inc. (Nasdaq:WTSLA) a 554 unit specialty retailer of fashionable and contemporary apparel and accessory items. She also currently serves on the Board and chairs the Audit Committee of the Girl Scouts of New York and is a Manager of Verite Capital Partners, LLC, a private investment and consulting firm. She served for ten years on the Advisory Council of Wells Fargo's Capital Finance Group and its predecessor entity, the Paragon Capital Retail Group. She was previously a Board member and head of the Audit Committee for ICTS International NV (OTC BB:ICTSF) a pioneering aviation security company headquartered in Amsterdam, Tuffy Associates Corp., a private auto service franchiser, Jane Cosmetics, and Textus, a private textile company. In addition, Ms. Davey was a founding member of the Advisory Board of the Fashion Institute of Technology's Center for Design Innovation.
Ms. Davey has been a featured speaker at finance conferences including the 2nd Annual International Textile and Apparel Conference held in Beijing, the New York Entrepreneurship Summit on The Changing Landscape of Finance in New York, and Touched by An Angel. She is recognized as a valuation expert before the New York State and various bankruptcy courts. She was a finalist for the New York City Ernst & Young 1998 Entrepreneur of the Year Award. Her television appearances include The Woman's Connection and Fox News Channel with Neil Cavuto.
Ms. Davey earned a B.S. in Architecture from the University of Virginia, a Masters in Architecture from the University of Michigan and a MBA from the Harvard Business School. For more information on Avalon Group please visit www.avalonnetworth.com/.