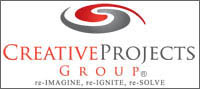 Creative Projects Group®, and the members of the This is Ragtime creative team, welcome Robert Santelli, Executive Director of the Grammy® Museum, Mitchell Block, award-winning documentarian, and Phil Schaap, Curator of Jazz at Lincoln Center, to their Board of Advisors. These individuals have outstanding media backgrounds in music,

film and television production and performances, as well as the history behind such works. Each of their contributions will contribute substantially to the nature and scope of the production (see: www.thisisragtime.com).
Robert Santelli is the Executive Director of the GRAMMY® Museum, located in the Nokia Plaza of the L.A. Live Complex in Los Angeles. The core mission of the Museum is to explore and celebrate the enduring legacies of all forms of music; the creative process, the art and technology of the recording process; and the history of the GRAMMY® Awards (see: http://www.grammymuseum.org/home). Mr. Santelli is a noted blues and rock historian, and also the author of more than a dozen books on American music, including Greetings from E Street (The Story of Bruce Springsteen and the E Street Band) and The Bob Dylan Scrapbook, both on New York Times Bestsellers List. He has also contributed to Rolling Stone, Musician, Modern Drummer, Guitar Player, Downbeat, the New York Times, and New Jersey Monthly, among other periodicals. He started the American Music Masters Series and the Oral History Project, and also developed the UK's first pop music museum, the British Music Experience, which opened in London in 2009. Currently, he is serving as Co-Chairman of Woody at 100— a partnership between the GRAMMY Museum and the Woody Guthrie Archives, producing numerous events celebrating Woody Guthrie's 100th birthday throughout 2012 across America and internationally. His latest book, This Land Is Your Land: Woody Guthrie and the This Land Is Your Land: Woody Guthrie and the Journey of an American Folk Song was released in March 2012. He earned his Master's Degree in American Studies from USC, with a focus on the intersection of history, politics and culture with popular American music.
Mitchell Block is president of Direct Cinema Limited in Santa Monica. Block produced the 2011 Academy Award and multiple Emmy Award nominated documentary film Poster Girl. Block conceived, co-created & is an Executive Producer of the 2008 PBS Emmy Award-winning 10-hour documentary series Carrier the companion documentary feature. He was a consultant on short & feature nonfiction projects for HBO/Cinemax from 1998-2005. He's been teaching independent film producing at USC's School of Cinematic Arts since 1979. He was an Executive Producer of HBO's 2001 Academy Award-winning film Big Mama, No Lies, produced & directed by Block, was selected in 2008 for the National Register of Historical Films, films selected from1973 include: American Graffiti, Badlands, Mean Streets and The Sting. It won an Emmy in 1975. He is a member of the Academy of Motion Picture Arts and Sciences, the Academy of Television Arts & Sciences, a founding member of BAFTA-LA, and a life member of the UFVA &IDA. Block's films have been shown in over sixty countries and are being distributed by HBO and National Geographic globally. His personal works are in the media collections of several thousand schools and libraries. Mitchell Block has handled the distribution & marketing of hundreds of documentary, live action & animated shorts films & documentary features, 25 have won Oscars & 71 have received Academy Award nominations.
Phil Schaap is an American jazz disc jockey, historian, archivist and producer. He hosts a daily morning radio program on 89.9 FM New York, WKCR, the radio station of Columbia University, his alma mater, in New. The show, called Bird Flight, is broadcast from 8:20 am–9:30 am on weekdays and devoted to the music of Charlie Parker. Bird Flight has been running since 1981. Schaap also hosts the weekly Traditions In Swing on Saturday evenings from 6-9 pm, which likewise has been on the air for thirty-two years. He is a cousin of sports journalist Dick Schaap. As an educator Phil has taught Jazz at the graduate level at Columbia University and Rutgers University. Schaap continues his academic teaching career at Princeton University and The Juilliard School, while running an adult Jazz education program for Jazz at Lincoln Center (see: http://jalc.org/). Upon becoming Curator at Jazz at Lincoln Center he left a successful career producing, remastering, and writing for record companies such as Universal, Sony, and PolyGram. Phil was raised by jazz-loving parents and the music's originators, particularly the members of the original Count Basie Orchestra. His father was Walter Schaap, one of the first jazz historians and discographers. Phil's early career found him managing the Basie alumni band, The Countsmen (featuring alto saxophonist Earle Warren and trombonist Dicky Wells) and doing sound for various Jazz events including George Wein's Newport Jazz Festival. For 17 years Phil ran the Jazz at The West End jazz room on Broadway at 116th St in New York City, booking on a nightly basis such prominent swing-band alumni as Russell Procope's Ellingtonia, The Countsmen, Franc Williams, George Kelly, Eddie Barefield, Sonny Greer, Benny Waters, "Papa" Jo Jones, Buddy Tate, Vic Dickenson, Harold Ashby, Big Nick Nicholas, Ronnie Cole, Eddie Durham and "Doc" Cheatham, more modern jazzers such as Lee Konitz and Joe Albany, and blues artists such as Percy France and Big Joe Turner. Since February 2, 1970 Phil has broadcast Jazz on the radio (primarily on WKCR). He's known for his marathon festivals on one artist, birthday broadcasts, and memorials. From 1984 to 1991, Schaap was the archivist for the Savoy Jazz label. Schaap has been involved with the re-release of many archival recordings on CD, releases of artists including Charlie Parker, Miles Davis, Billie Holiday, Benny Goodman, Louis Armstrong, Machito and the Afro-Cubans and Duke Ellington. For his efforts in engineering, production, and liner notes, Schaap has won at least seven Grammy awards, including three for producing, three for historical writing, and two for audio engineering. The May 19, 2008 issue of The New Yorker includes a nine-page article about Schaap written by David Remnick. The article is a tribute to Schaap's unique, vast knowledge of jazz history and the unusual story of his lifelong friendships with many of jazz's greatest players, beginning when he was six years old and Jo Jones became his sometimes babysitter. Schaap is a distinguished member of the Board of Directors Advisory committee of The Jazz Foundation of America.