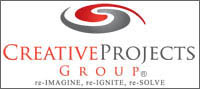 Creative Projects Group®, and the members of Kahlil Gibran's The Prophet biographical feature film creative team, welcome internationally acclaimed author and media critic, Dr. Jack G. Shaheen as a Production Advisor (see: www.thegibranfilm.com). Dr. Shaheen is a Pittsburgh native, is a committed internationalist and a devoted humanist.
Shaheen, a CBS News Consultant on Middle East Affairs from 1993-98, also served as a professional film consultant. He served as a consultant with the award-winning documentary, Umm Kulthum: A Voice of Egypt (1996), he has also worked with writers and producers of feature films such as writer-director Steve Gaghan on Syriana (2005); and producer Chuck Roven on Three Kings (1999).
Dr Shaheen is a recipient of the Ellis Island Medal of Honor (2013); the Honor pays homage to those individuals who have distinguished themselves in the cultural mosaic of America. He has given over 1,000 lectures in nearly of all the fifty states and on three continents. Among those universities that have welcomed him are Oxford, Amherst, Emory, Harvard, the University of Southern California, West Point, as well as the Carnegie Endowment for International Peace and the White House Truman Center. World capitols where he has spoken include London, Berlin, Paris, Prague, New Delhi, and Cairo. He has consulted with the United Nations, the Los Angeles Commission on Human Relations, the Justice Department's Civil Rights Division, and New York City's Commission on Civil Rights. And in cooperation with the U.S. Government, he has conducted seminars throughout the Middle East. Dr. Shaheen, and his wife Bernice, created the Endowed Media Scholarship Fund (see: www.accesscommunity.org ) as part of the Center for Arab American Philanthropy to support Arab American university students majoring in mass communications, journalism and film. His lectures and writings illustrate that damaging racial and ethnic stereotypes of Asians, blacks, Native Americans and others injure innocent people. He defines crude caricatures, explains why they persist, and provides workable solutions to help shatter misconceptions. His universal insights and guidance will be invaluable to guiding the telling of the story of Kahlil Gibran, on screen and off.
Shaheen's telling new book, A is for Arab: Archiving Stereotypes in U.S. Popular Culture, features photographs of objects and materials from the Jack G. Shaheen Archive at New York University (NYU). The book and a special traveling exhibit documents U.S. popular culture representations of Arabs and Muslims from the early-20th century to the present. NYU's Shaheen Archive contains more than 4,000 images including motion pictures, cartoons, and TV programs, as well as toys and games featuring anti-Arab and anti-Muslim depictions.
His other books are: Nuclear War Films, The TV Arab, Arab and Muslim Stereotyping in American Popular Culture, the award-winning book [and DVD] Reel Bad Arabs: How Hollywood Vilifies a People, and GUILTY Hollywood's Verdict on Arabs after 9/11. His writings include 300-plus essays in publications such as Newsweek, The Wall Street Journal and The Washington Post, to dozens of chapters on stereotypes in numerous college textbooks.
Dr. Shaheen, an Oxford Research Scholar, is the recipient of two Fulbright teaching awards; he holds degrees from the Carnegie Institute of Technology, Pennsylvania State University, and the University of Missouri. He has appeared on national network programs such as CNN MSNBC, National Public Radio, Nightline, Good Morning America, 48 Hours, and The Today Show.
Among Dr. Shaheen's awards recognizing his "outstanding contribution towards a better understanding of our global community" are: The University of Pennsylvania's Janet Lee Stevens Award; the American Arab Anti- Discrimination Committee's Lifetime Achievement Award in recognition of "his lifelong commitment to bring a better understanding towards peace for all mankind;" and the Pancho Be Award for "the advancement of humanity." Pancho Be, a Mayan phrase, means to seek the root of truth.