Who We Are
Doug Yellin, Board of Advisors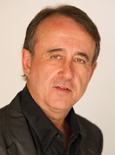 Doug has over 25 years experience producing feature films, television series, documentaries, IMAX© films, 3D films, 360° & multi-screen presentations, ride simulation films and multi-media content for special venue attractions, immersive guest experiences and brand-based installations around the world.  Yellin is currently producing a digital installation for the City of Edmonton in Canada and has produced several media projects including the highly-acclaimed Beyond All Boundaries at the WWII Museum in New Orleans, and Explore: Blue Planet • Red Planet at the Museum of Science and Industry in Chicago.
Doug was Executive Producer for Iwerks Entertainment, supervising production of 70mm large format films, ride simulation films, 3D/4D attractions, 360° Circlevision experiences, and multi-media projects for theatrical release, theme parks, museums, special venues and unique attractions world-wide. Doug worked with clients such as CBS Eyemark (Stealth), NASCAR (Daytona Dream Laps), Discovery Pictures (Wings; Thrill of Flight), Experience Music Project (Artist's Journey), Jive Records (*NSYNC Bigger Than Live), Saban Entertainment (Power Rangers Ride), Sony Music Box (Berlin Symphony) and Volkswagen Autostadt (Panorama Tour & Das Geheimnis).
Doug has also served time in the corporate offices of several Hollywood media production companies as Vice President of Film Production for Village Roadshow Pictures and Tourist Films, Production Executive for New Regency Films and Buena Vista Home Entertainment, Story Editor at QOC Productions and Vestron Pictures, and as President/COO of PMLBE, a turnkey supplier of custom media attractions for location based entertainment and retail venues including Universal Beijing, Sony Center Berlin and Peppermill Casinos in Reno Nevada.
Douglas Yellin attended the University of Southern California as an undergraduate for a B.A. in Film Production in the School of Cinema/TV and has a B.S. in Cultural Anthropology from their School of Social Science.  He also attended the USC Cinema Graduate School, M.A. Degree Program of Film & Television Production. For further information please see http://www.imdb.com/name/nm0003380/
This email address is being protected from spambots. You need JavaScript enabled to view it.