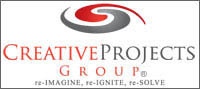 2014 LATC Los Angeles Immersion Program
Steve Solot, Founder and President of the Latin American Training Center, and CPG Advisory Board Member, along with Kate Lyra, Daniel Dreifuss and Daniel Pisano led the November 3-8, 20-25 global audiovisual industry professionals will have the opportunity to experience an "immersion" into the U.S. audiovisual industry. Through an intensive schedule of meetings, presentations, round tables and networking with film and television executives, consultants, talent agents, entertainment lawyers, each participant in the LATC Immersion Program will have access to commercial, legal, marketing, artistic, academic and new media aspects of the US audiovisual industry in Los Angeles. The 2014 LATC Los Angeles Immersion Program included participants from Belgium, New Zealand, Kenya, Spain, Brazil, China, Myanmar, Australia, Colombia, Japan, Turkey and Cambodia.
During the Program, participants had the opportunity to ask specific questions and discuss their projects with US-based producers, agents, studio executives and distributors, to generate real possibilities for development, financing, distribution and co-production. William Nix, Chairman of CPG, presented the participants with an current overview of the U.S. Theatrical, Television and New Media Marketplaces. His overview covered Key 2014 Trends in Television, with particular concentration on new developments in Over-the-Top cross-platform delivery of content, including the new technologies and companies providing such services.
The participants were also provided with an exclusive insider's tour and access to selected events of the American Film Market, the premiere global marketplace for films.
Among the many companies and organizations that have collaborated with the LATC Global Immersion Programs in previous editions, as well as this year's, are: Independent Film & Television Alliance (IFTA) Foundation, National Association of Latino Independent Producers (NALIP), Producers Guild of America (PGA), Creative Artists Agency (CAA), William Morris Endeavor Entertainment (WME2), Motion Picture Association of America-MPAA, Directors Guild of America (DGA), The Radmin Company, American Film Institute (AFI), the Independent Filmmaker Project (IFP), Focus Features, Sony Pictures Classics, HBO Documentaries, Goldcrest Films, Overture Films, Circle of Confusion, Cinema Tropical, the Independent Film Channel, Phoenix Picture, UTA, Participant Media and Creative Projects Group.