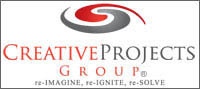 2015 Kahlil Gibran "Spirit of Humanity" Awards Gala
Salma Hayek Pinault will receive the Award for Individual Achievement at the 2015 Kahlil Gibran "Spirit of Humanity" Awards Gala on April 29th in Washington, D.C. Along with Ms. Hayek-Pinault, the AAI will honor The Honorable Michael E. Barood with the Najeeb Halaby Award for Public Service, John Sexton with the Award for Individual Achievement and Lawrence Wright with the Anthony Shadid Award for Excellence in Journalism.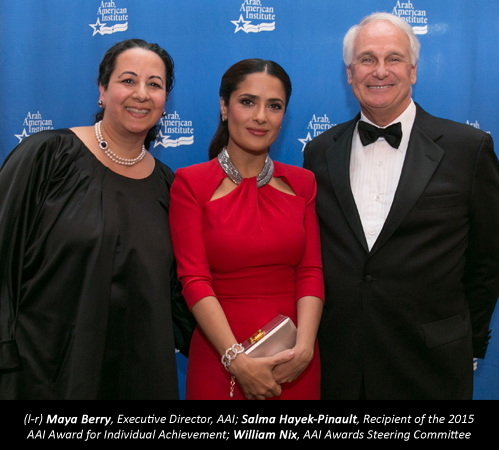 Ms. Hayek Pinault is a true global citizen. Born in Mexico to a Lebanese father and Spanish mother, and now a US citizen, Ms. Hayek Pinault is an award winning actress and internationally recognized advocate. Through her work with the Salma Hayek Foundation she supports transformative initiatives to end violence against women and to bring global attention to humanitarian crises. As Ambassador for the Avon Foundation for Women, she ensured that all domestic violence hotlines in the US had Spanish as well as English speakers, and opened the first Family Justice Center in 2004 based on the President's Family Justice Center Initiative. In 2005, Ms. Hayek Pinault spoke before the U.S. Senate Judiciary Committee to demand the reauthorization of the Violence Against Women Act, which was subsequently signed into law. With Beyoncé Knowles-Carter, Frida Giannini, and the fashion house Gucci, Salma Hayek co-founded CHIME FOR CHANGE, a global initiative to support and strengthen women's empowerment projects and celebrate the stories of inspirational women across the world. She served as the spokeswoman for UNICEF's successful 2008 campaign to eradicate maternal and neonatal tetanus around the globe, and was awarded the Clinton Global Citizen Award in 2010. In 2012, she was named a Chevalier de la Legion D'Honneur by the President of France and she was presented with the Medallion of Excellence Award by the U.S. Congressional Hispanic Caucus in 2013. She is in the board of the Kering Foundation and has also worked with other organizations such as VDay, Youth AIDS, Global Green and many others. Inspired by her Lebanese heritage, Ms. Hayek Pinault produced the animated adaption of Kahlil Gibran's The Prophet, a film that is sure to impact and inspire millions of viewers across the world with the power, beauty, and truth of Kahlil Gibran's poetry, when it is released internationally this year.
Launched in 1999 by the Arab American Institute Foundation, the awards focus attention on acts of leadership and dedication that promote the common good. The Kahlil Gibran Spirit of Humanity Awards recognize individuals, corporations, organizations and communities whose work, commitment and support make a difference in promoting co-existence and inclusion in all walks of life. The awards aim to promote the positive forces of diversity and cultural interaction, and to showcase programs that foster democratic and humanitarian values across racial, ethnic and religious lines. The award is named for the author of "The Prophet" whose message of human endurance and triumph was so evident in his life and work. The award further symbolizes Gibran's pride in his Arab heritage, respect for the freedom he found in the United States and his universal love of humanity. The event is supported annually by a diverse group of corporate and individual donors and is organized by congressional, honorary and steering committees.
Founded by the Arab American Institute in 1995, the AAI Foundation supports a broad range of public information and education programs that encourage Arab American participation in American civic life. Specific AAIF projects supported by proceeds of this event include Washington internships for Arab American college students and recent graduates; ethnic awareness campaigns; pride in heritage materials; projects that highlight the achievements of Americans of Arab descent; demographic research and publications about the national characteristics of Arabs in America; technical and research support to community groups serving the civic and social needs of Arab immigrants; support of Arab American participation in inter-community coalitions and programs that encourage communication between immigrant, ethnic, racial and religious groups in American society; international exchange programs; and scholarship programs for community and public service.
2015 Kahlil Gibran "Spirit of Humanity" Awards Gala
2015 Kahlil Gibran "Spirit fo Humanity" Awardees