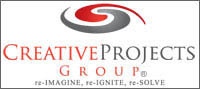 William Nix and Nancy Cushing-Jones to Teach "Branding and Cross-Media Storytelling" Master Class at 2016 RioMarket
William Nix, Chairman of CPG, and CPG Board of Advisors Member and Partner in BroadThink, Nancy Cushing-Jones, are presenting a Master Class on "Branding and Cross-Media Storytelling" for the participants in the 2016 Rio Film Festival/RioMarket in Rio de Janeiro, Brazil.
While a large part of the festival is targeted towards the resident Brazilian public, Festival do Rio also has a very strong industry section. RioMarket offers seminars, Master Classes, industry screenings, one-to-one scheduled meetings, and networking events covering film, home entertainment and television.
The backdrop to the festival is the city of Rio de Janeiro, unquestionably one of the world's most beautiful, which has been recognized as such by UNESCO. It is a city surrounded by mountains and water that together have dictated just how Rio has spread and evolved since first being 'discovered' by Europeans in the early 16th century. Those explorers believed that they had come across the mouth of a great river, hence the name River of January (Rio de Janeiro). The mouth of the river turned out to be Guanabara Bay, the bay over which the festival headquarters in Armazém da Utopia overlooks. In 2015, Rio de Janeiro is celebrating the 450 anniversary of its birth as a city.
Rio de Janeiro was the host city for the 2016 Olympic and Paralympic games, a city that has already hosted the final of the 2014 FIFA World Cup, a tournament considered by many to be the best ever. Festival do Rio, Rio de Janeiro's international film festival, warmly welcomes its' guests and the fans of the moving image to what is Brazil and South America's largest film festival and audiovisual industry event.
For further information, please see:
www.riomarket.com.br/en/subscribe/rioseminars/buy/riomarket-advertising
www.riomarket.com.br/en/business-area/players/william-nix
www.riomarket.com.br/en/business-area/players/nancy-cushing-jones
www.broad-think.com and www.trulovestories.com