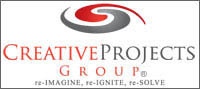 PGA is Producing and Pepperdine's Entertainment, Media & Culture Institute is Hosting "Crowdsourcing" Master Class
Ian Wagner, Producer with Fantail Entertainment, and the PGA Education Committee, will be offering a 4-hour Master Class that will be hosted by the Pepperdine Institute of Entertainment, Media & Culture (iEMC), as part of iEMC's "Next Wave in Entertainment" series. The Crowdsourcing Master Class will be held at Pepperdine's Culver City campus. It will focus on the process, requirements, techniques and companies who specialize in online and other forms of crowdsource-funding for film, television and other media projects.
William Nix, Chairman of Creative Projects Group, and a member of the PGA Education Committee, has also been working, as an Industry Advisor to Kathryn Linehan, Senior Advancement Officer and Assistant Director John Mooney, Executive Director and Craig Detweiler, Creative Director, and the leadership of the iEMC, in order to develop and promote this and other educational exchanges, both on and off-campus, for members of the PGA, the industry generally, and Pepperdine students, faculty and alumni.
For further information, please see:
www.pepperdine.edu/entertainment-media-culture/about/leadership.htm